KRILLAN™ IS UNIQUE, PURE, NATURAL OMEGA 3 PRODUCT CONTAINING ASTAXANTHIN
Krillan™ is an excellent product for your health.
Krillan™ is made from krill oil. It is a product of superb quality and its proven to be the most effective powerfull way to add omega-3 to your diet. Krillan is an unique product, because it is pure, natural source of health-promoting EPA & DHA omega-3 faty acids and the naturally occurring antioxidant astaxanthin.
Krill oil comes from Krill, small, shrimp like crustacens, which live in pristine antarctic waters. It is the cleanest enviroment on the Earth and guarantee that Krillan™  is 100% safe and free from inpurities like PCBs and mercury.
A species of zooplankton invertebrates, krill move in huge swarms throughout pure Antarctic waters and feed on microscopic algae, which is what largely provides its diet with such a robust source of omega-3s.
Krill oil supplementation is a highly beneficial way to acquire the vital ingredients. Not only it is a rich source of essential fatty acid components, but it's also purer and more tolerable than marine alternatives.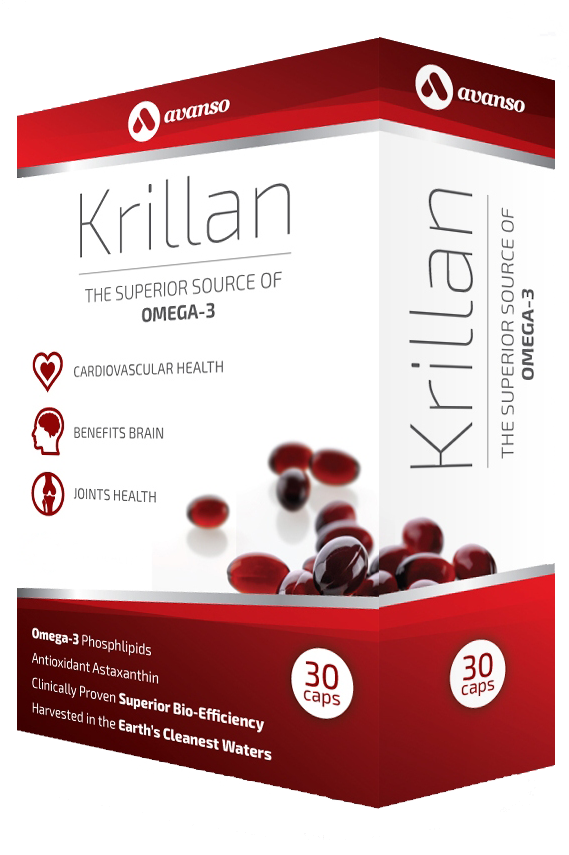 The advantage of krill oil is that it is much better absorbed by the body than any fish oil.
KRILL OIL CONTAINS OMEGA-3 PHOSPHOLIPIDS, CHOLINE AND WILD NATURAL ASTAXANTHIN
from krill are more bioefficient source of omega-3 than the omega-3 triglycerides derived from fish oil
Choline is extremely important for the health of the cells and for the development of brain functions
Astaxanthin, the most powerful antioxidant in nature, helps the body to balance the immune system.
KRILLAN™ IS SOURCED FROM THE CLEANEST ARTIC WATERS
Krillan™ is one of the few products made of marine oils, which has food grade approval throughout the whole supply chain, from harvesting to finished product. This ensures compliance with current and new legislations. It also means that quality control is a natural part of the entire production process of Krillan™, rather than just testing the end product after production is completed.